Rock stars and presidents, corporations and comedians, associations and legendary athletes. For nearly half a century, they all live it up at the celebrated Woodlands.
Founded in 1969, The Woodlands is a boutique-style hotel, conference and event resort in the foothills of the Pocono Mountains. We are known for our distinct "Woodlands Experience" – exemplary events, dining, dance and party venues, the finest lodging and unforgettable hospitality.
"Yes, Aerosmith relaxed here at the Woodlands. So did Seinfeld, President George W. Bush, and Mickey Mantle," said Mitch Kornfeld, a Woodlands second generation family owner.
"But what distinguishes us from every other resort? We treat everyone like royalty."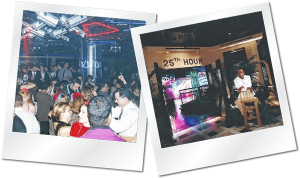 The Woodlands is nestled by the stunning Laurel Run stream and forested grove. We are minutes from major Interstates and attractions like the Mohegan Sun Pocono casino. We are also convenient to the entire Tri-State region – just 2 hours from Philadelphia, Manhattan and Harrisburg.
Our complimentary shuttles bring customers day and night to the Wilkes-Barre/ Scranton Airport (just 15 minutes away) and Mohegan Sun Pocono Casino (just 5 minutes away.)
The Woodlands features custom catered menus for every group event. Our clients also love Shogun, our on-site Japanese Hibachi/Sushi restaurant; our brick oven eatery, Crescenzos, with sports and espresso bar; our SKYY Vu DeckBar; and our executive lounge. And the Woodlands hotel suites delight and relax our guests.
The Woodlands is also celebrated for its legendary nightclub scene. In 1979, Woodlands owners, Mark and Gary Kornfeld, attempted something larger than life in Northeast Pennsylvania. The Kornfelds invested hundreds of thousands of dollars to create "the 25th Hour," the most state-of- the-art nightclub in Northeast Pennsylvania. To many patrons, the 25th Hour rivalled arguably even the famed Manhattan Studio 54.
No expense was spared. An interior designer was hired. A lighting designer created an illuminated dance floor environment. It's said that many weddings began as romances struck at the 25th Hour.
The Woodlands nightclub continues to reinvent the club scene to this day featuring a music and dance scene that satisfies every age.
Planning an event for 10 or 1000 guests? The Woodlands creates memorable experiences that always achieve results and exceed expectations. Our clientele includes major associations, corporations, and non-profits who expect exceptional conferences, black tie galas, tournament venues, corporate picnics, and five star meetings.
The Kornfelds invite you to experience the Woodlands. Live it up in the Woods!